home
9th May 2010 - TA-4J, The Philippines, Red Flag 10-3, UK Shooting plus updated search engine



I have quite a few updates for you in this installment; some recent shoots also some older backlogged photos that I'm slowly chipping away at.

As new photos are added I have updated the Flash software and pages to display the images at 1024 pixels wide instead of the original 850 pixels. The 850 size goes back to the time when we all used CRTs, but now when over 90 percent of monitors are now wider than this I have decided to go large.

Since the last update I was fortunate enough to shoot the Fighting Classics TA-4J on its first flight and subsequent test flights at Marana Regional, AZ. Maj and his team did an outstanding job in the almost five year restoration and emotions were at a high level throughout the weekend. As I have publication commitments I'll just show a single teaser for now.





I was back in the Philippines in February and have a couple of sets of tourist type photos taken with a Canon SD940IS compact camera. It's really small and perfect for travel and very inconspicuous. The lighting is very difficult though, as the camera has to cope with extremely bright sunshine and very deep shadows, which makes for a wide dynamic range.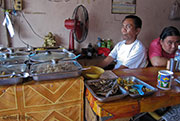 First up here are some street shots in and around Iloilo on the island of Panay.



San Joaquin also on the island of Panay has a very impressive cemetery just outside of the town built from coral.



A nice recent movement at my local airport saw a Dornier 328JET pass though. Not too many of these were built and to see one fly these days is pretty rare. It was due to depart in perfect light before the sun set, but the crew filed an incorrect flight plan and so they ended up departing after the sun had set behind the mountains.



At the beginning of March I once again visited Nellis AFB, NV for the latest Red Flag exercise RF10-3. Visitors included the Australians' with F/A-18A Hornets and the Royal Air Force with Harrier GR.9s. I spent four days there shooting on and off base and had some wonderful photo opportunities. I think this is the only remaining shoot at the smaller 850 pixel size.


The above Red Flag shoot was also pushed on the Global Aviation Resource site.


Catching up on some unprocessed shots and back to a trip to the UK in May 2009, first up a trip to RAF Lyneham to shoot some stock RAF Hercules' in digital as I'd really only shot them on film before. A bonus was a lovely looking Airlift International DC-8 which happened to be visiting.



For sheer nostalgia to see avgas dinosaurs still flying RAF Brize Norton cannot be beaten. I was lucky that three Tristars flew and a VC-10 bashed the circuit for hours including an impressive nose-up flapless approach to land. Lighting was tricky at times with the sun popping in and out of the clouds but it was well worth the visit. My last visit back in September 2007 saw only a single movement!


The aviation search engine has also been revamped so that more specific searches can be performed. If you are a media representative I can provide a link that gives you thumbnail results. E-mail me for more information.

That's all for now. I'm back in Russia in a couple of weeks for some more interesting adventures, this time up to the Arctic Circle.