Ostend, Belgium (EBOS) - September 1991
Ostend in Belgium was always home to interesting old jets that mostly plied their trade down to Africa and often with volatile cargo onboard. I knew a pilot that flew from here at this time and he always told us real interesting stories about operations down to that continent and how sometimes the cargo on the manifest didn't actually match what was onboard.
In September 1991 I was flying Cessna 152 G-BNSW from Guernsey to Seppe in Holland for their annual fly-in. I did a round-about route as I was building hours for my commercial licence and elected to go via Ostend and Amsterdam-Schiphol, which was a real fun airport to land at. Ostend was a 3 hour 15 minute flight, mostly at 1000 feet and, as I had access airside, I thought I may as well shoot the aircraft on the ramp while I was there clearing customs and having a drink.
There were two TAROM Boeing 707s in what was then their new colour scheme. Both used to carry passengers and were often seen at Heathrow but had been relegated to the freighter role. Not long after I saw these they were both sold to Air Afrique in the Ivory Coast and both ended their days with that airline in accidents. YR-ABM lasted until 1993 when it crash landed short of the runway at its base in Abidjan, and YR-ABN made it until 1995 when it overran the runway after landing at N'Djamena in Chad. Another 707 belonged to EAS (Executive Airline Services) Cargo Airlines and was based in Lagos, Nigeria, and I took the opportunity to get a shot with my little Cessna 152 in the frame. This aircraft changed hands many times after being sighted here, all with African airlines and ended its days being broken up at Shannon Airport in 2003.
The immaculate looking Flash Airlines DC-8-55F served them well between 1988 and 1993, although it was on the ground for two of those years after being damaged. It was later sold to MK Airlines who, until recently, still flew to Europe until encountering financial difficulties which ultimately led to the company being liquidated, and this airframe was another casualty in Africa as it crashed while landing at Port Hartcourt, Nigeria in 1996. The other large aircraft on the ramp was a nice looking Boeing 727-46 registered in the Democratic Republic of Congo. This belonged to Air Charter Services (ACS) but at the time was still untitled when I saw it. This aircraft soldiered on until 1997 when it was scrapped and broken-up at Kinshasa, Zaire.
Subscribe to receive updates via: e-mail list | Facebook | Instragram | Twitter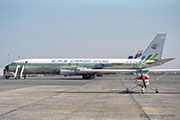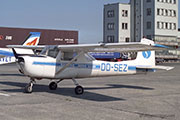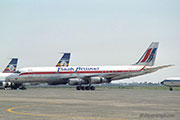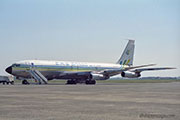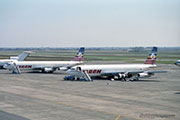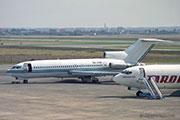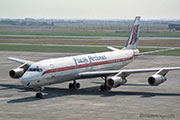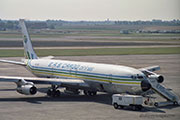 ---
---