Whiteside County Airport, Rock Falls, Il, USA (KSQI) - The Last Time DC-3 Meet, 23-25 July 2010
As yet another milestone comes and goes for the legendary Douglas DC-3 and with many still plying their trade. Whiteside Airport in Illinois is where The Last Time event took place, setting itself up for an ambitious gathering prior to the mass fly-in for Air Adventure at Oshkosh.
2010 marks the 75th anniversary of the Douglas DC-3, the aircraft that bought civilian air transport to the masses by being the first that could fly passengers coast-to-coast in the USA, albeit with fuel stops, while also playing a pivotal role in World War II.
The Douglas DC-3 first flew on 17th December 1935 and only 350 were actually built for airline use. It was the military's need for reliable air transport that bolstered the production numbers with more than 10,000 eventually being manufactured for that purpose. In fact DC-3 ZS-PAA (c/n 1984) has amassed an amazing 106,000 flight hours and is thought to be the highest time DC-3 still in existence. It is currently slowly being restored in South Africa and will hopefully fly again in the future.
The old adage that the only replacement for a DC-3 is another DC-3 still seems to hold true as there are still numerous airframes currently earning their keep in commercial service and with some very diverse operations. There is probably not an aerial application or role that a DC-3 has not been used to fulfill and such is the usefulness of the actual airframe that many have also found their way to Basler Aviation in Wisconsin for conversion to turbo-prop aircraft, which will further extend the life of those airframes.
The Last Time Organization was formed solely for this gathering which was to reunite flying examples and the people who were, or are, associated with the aircraft. Plans for the event at Whiteside Airport, Rock Falls. Illinois suddenly became much bigger than previously anticipated when the EAA announced that they wouldn't be able to guarantee a designated parking area at Oshkosh for all the participating aircraft and might not be able to accept the planned mass arrival.
The cross runway 18/36 at Whiteside Airport was closed to accommodate visitor parking and cars were lining up past the freeway exit to enter the airfield to view the spectacle and Mike Dowell, the Airport Manager and FBO owner of M&M Aviation, found his ramp literally full by the end of day on Sunday. For the public it only cost five dollars per car to park with free entry thereafter and an almost free reign of the ramps where the DC-3s parked.
Other FBOs in different states also offered any DC-3 transiting to this event exceptional rates including fuel and oil at cost and even free meals for crews on any aircraft routing to Whiteside. The event was capped at the 40 aircraft mark due to parking limitations and this number was reached well before the start of the weekend's activities!
On Friday six or seven aircraft arrived and although the weather forecast for Saturday was horrendous there were still over 20 DC-3s on the ramp by end of the day. Luckily the light rain which fell early on petered out revealing glorious sunshine, which in turn brought out the public in large numbers. More aircraft arrived on Sunday, which also saw the largest influx of both visitors by car and aircraft to check out what was happening - such is the lure of the DC-3.
Heavy rain at Oshkosh looked like it might scupper the plans for Monday, but it was decided that the mass fly-out at Whiteside would still take place on time and either aircraft would land back at the airport or depart for home. In the end, thankfully, it dried out quickly enough for the fly-out to continue to Oshkosh as planned.
At the end of Sunday there were 28 aircraft – short of the planned 40, but with maintenance issues and inclement weather playing a part, still a great number considering the fact that we are talking vintage aviation where anything can and will happen. There were 27 DC-3 derivatives plus a DC-2.
Some of the more notable aircraft attending included the DC-2 N1934D which is painted in the TWA red and grey colours from "The Lindbergh Line" era and is one of only two that remain airworthy anywhere in the world; the other is located at the Aviodrome in Lelystad in the Netherlands. Interestingly the DC-2 has a narrower fuselage and actually has better fuel economy than the DC-3 that replaced it.
One oddity on show was C-41 N41HQ (ex 38-502), which was a DC-3 destined for United Airlines but General Henry "Hap" Arnold who was the Army Air Corps Chief of Staff decided that it should be diverted for his personal use! Most references say this aircraft was a C-39 (DC-2) that was crossed with DC-3, but the owner says that is untrue. The exterior has been restored exactly as it was in 1938 and it looks stunning with its polished metal fuselage.
C-47 N5160X (42-32832) meanwhile is a D-Day veteran aircraft and flew with the 53rd Troop Carrier Squadron and when you think of what actually happened that day it's amazing that this aircraft is still flying in the USA.
N34 is resplendent in Federal Aviation Administration (FAA) colours and is yet another immaculate aircraft. I mentioned to one of the crew that it was nice to see my tax dollars being put to good use for a change and he explained that the aircraft doesn't receive any direct money as such, but costs are offset by maintenance work carried out on other FAA aircraft that would normally be billed internally. All the crew and maintenance is carried out on a voluntary basis and this airframe is configured with the equipment that it carried when it was a flight inspection aircraft between 1958-1981. Can you imagine the UK's CAA doing something like this?
I cannot end this article without mentioning the volunteers and general organization. Participants and media had a whole hangar set aside for them with tables and chairs to work from and drinks and food laid on. There was coffee and pastries during breakfast, a lunch and then dinner in the evening. Food was cooked by volunteers, donated by local businesses or sold at cost by local establishments. Scattered around were specially made condiment holders for salt, pepper and napkins, and each was decorated with information on a specific aircraft that was taking part. A photo of the airframe, its registration and history and the crew names were included. A truly amazing attention to detail and they were amazing hosts; it seemed like the whole town had come out to help.
This was a heavenly event for this 'round engine' nut and most probably something that will not be achieved again on such a grand scale. However, knowing the DC-3, who would bet against it?
Subscribe to receive updates via: e-mail list | Facebook | Instragram | Twitter
Showing page 1 of 2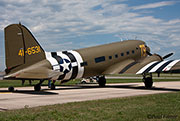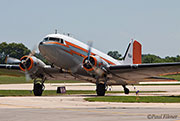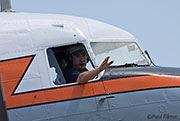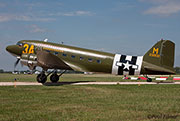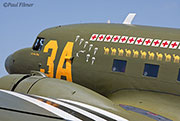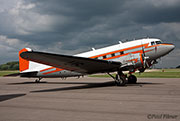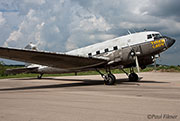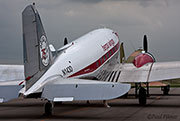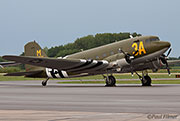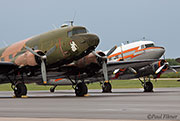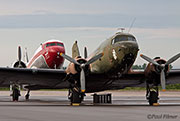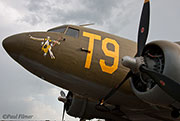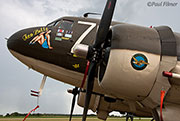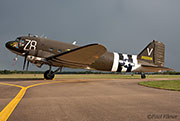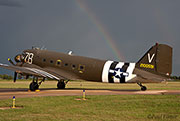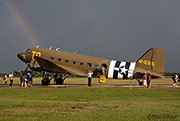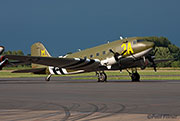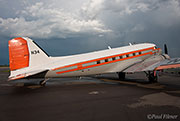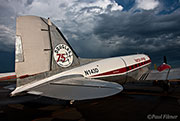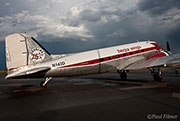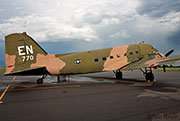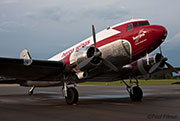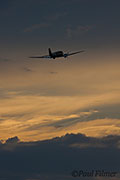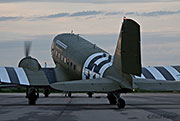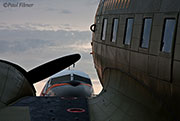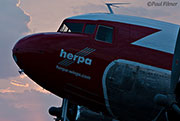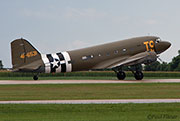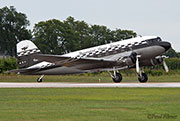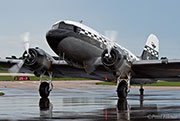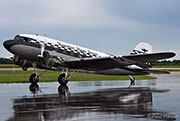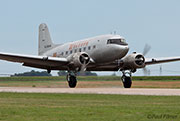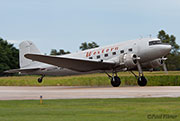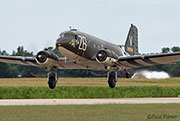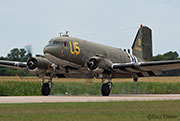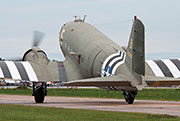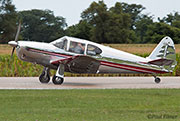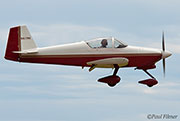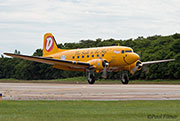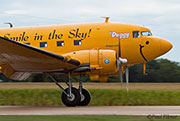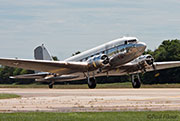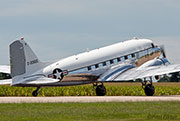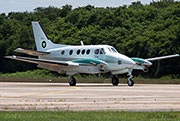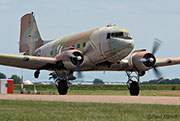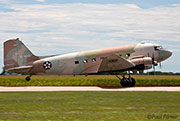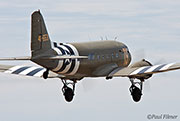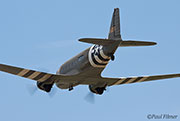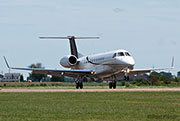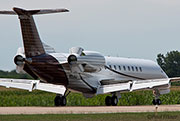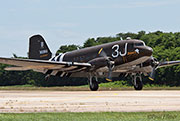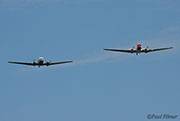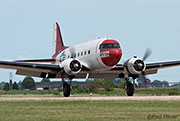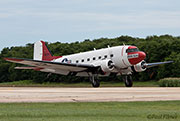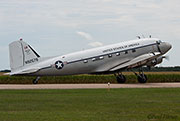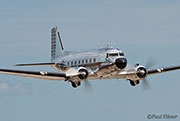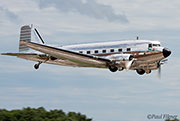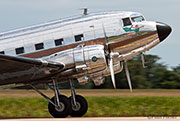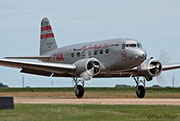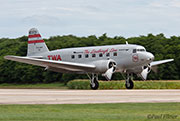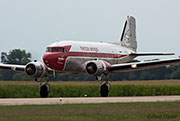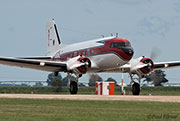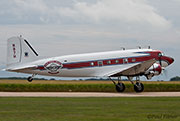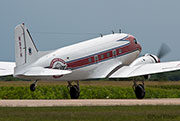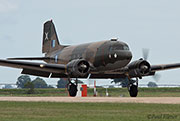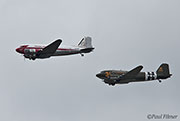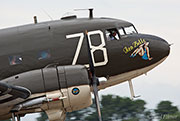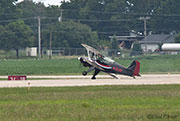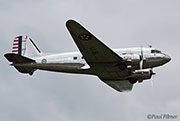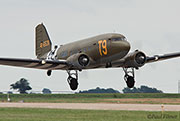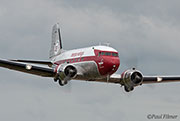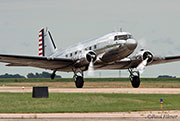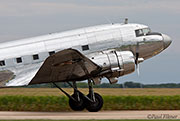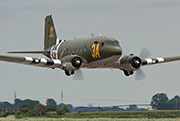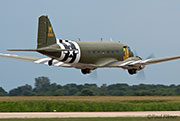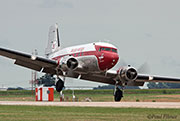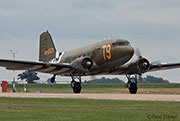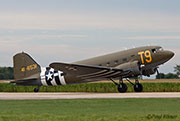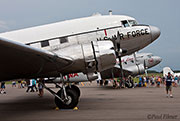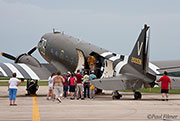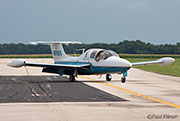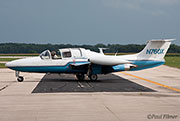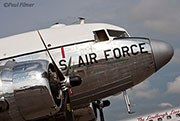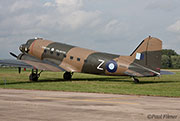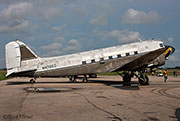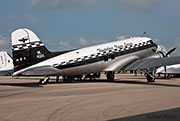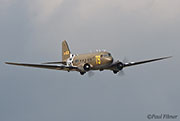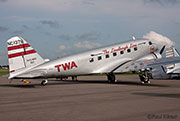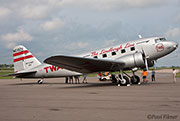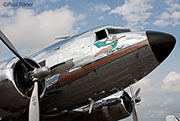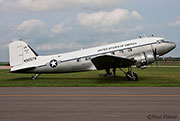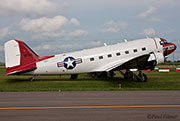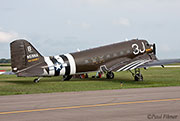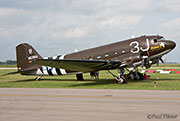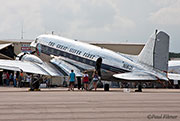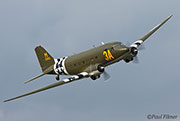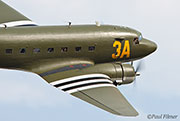 ---
---