Irkutsk, Siberia, Russian Federation (UIII) - July 2009
Subscribe to receive updates via: e-mail list | Facebook | Instragram | Twitter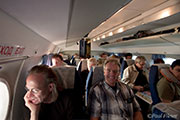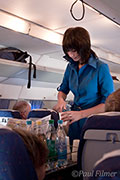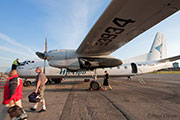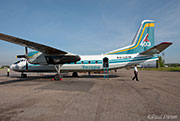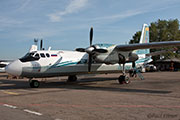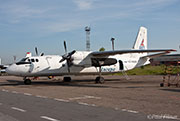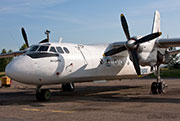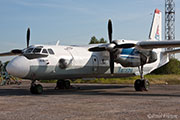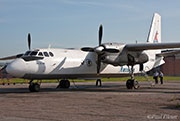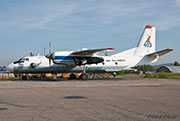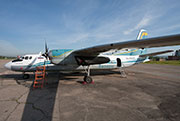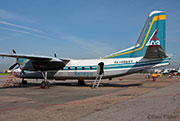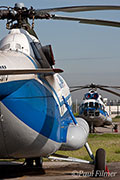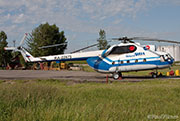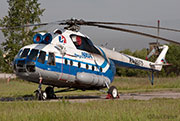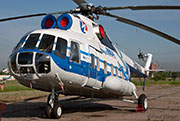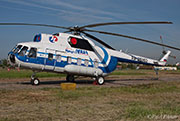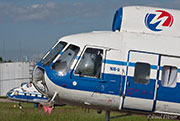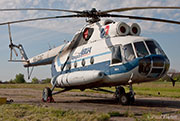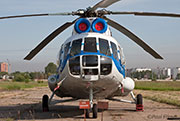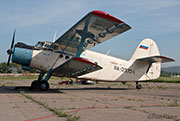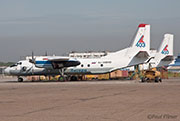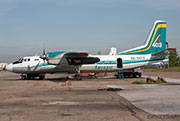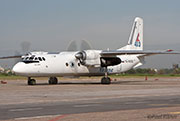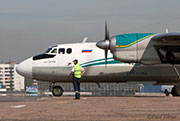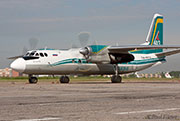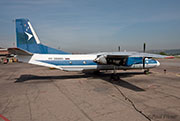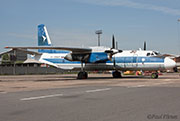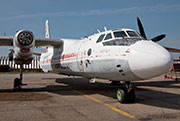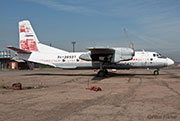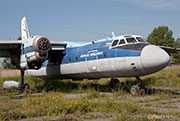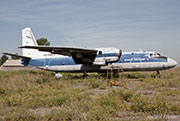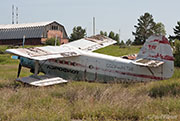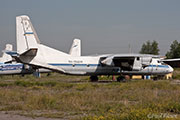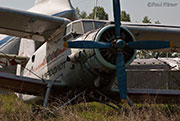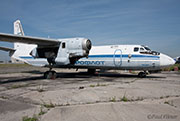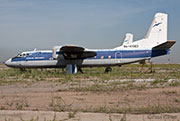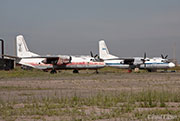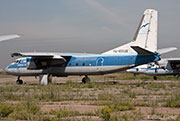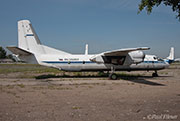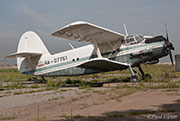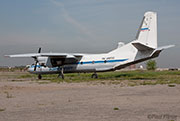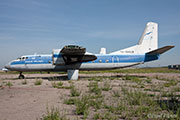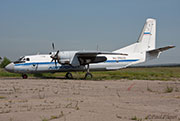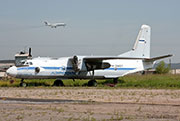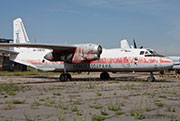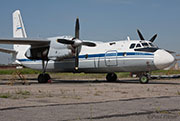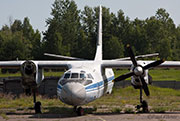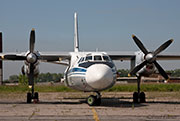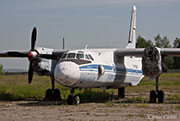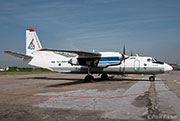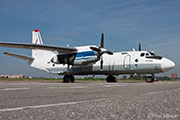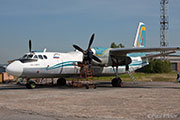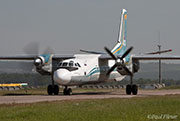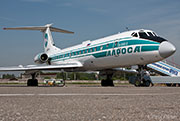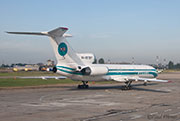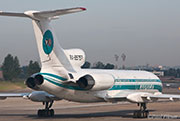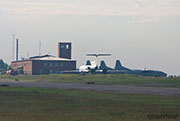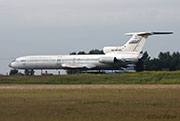 ---
---
Our alarm clocks are early today in preparation for one of my personal highlights of the trip, and one of the reasons I decided to come. Paul Filmer gets up early in part four of his trip to Siberia.
The first flight out of Ulan-Ude this morning is the one our group is due to catch, and yes, we are due to fly on an An-24! Am I excited? You bet I am! I'm awake before the alarm goes off at around 4AM, as with usual Russian efficiency, we are due to get to the tiny terminal at least two hours before our flight departs at sometime between five and six (I really don't remember the time). We catch the hotel KGB security guard asleep in a chair in the lobby, still wearing his old suit and tie from yesterday, before he wakes up with a start, cleaning his milk bottle bottom glasses to try to see what all the commotion is about.
Again we drag our western wheeled baggage through the dusty and cobbled streets to the airport. If we didn't attract attention on the way in the day before, we certainly did at this ungodly hour. We still can't see our mount, as the ramp outside the terminal is empty, so our aircraft must be parked in the gaggle of An-24s and An-26s we wandered around yesterday.
It's finally time to go to the departure lounge, which really means we walk from the spacious terminal into a much smaller room where there are not enough seats. Our bus arrives at last to take us to the aircraft. Well bus is stretching the description, as our transport is a pair of very old tram like carriages pulled by a tractor! Anyway as everyone barges through to be first to board this contraption, the wise amongst us knows the age old adage "last on first off" as most of us want a window seat and the flight is a free for all.
We take the bumpy ride to IRAero An-24B RA-93934 looking pristine in the dawn light. Annoyingly when we stop the front trams doors open and ours in the second one stay firmly shut. Panic kicks in and Steve spies the emergency door handle; a quick flick of the lever and we are able to reach the rear side steps almost at the front of the line where the stewardess is holding everyone back. Now the scene looks more like a rugby scrum with everyone pushing and shoving and no British queue anywhere in sight.
RA-93934 was one of the last to roll off the Ulan-Ude production line, and here she is sitting at her birthplace ready for us. We are finally allowed to board and I manage to bag a window seat and settle down for a flight I've always wanted to do. We spool up and trundle along the bumpy taxiway and before we know it we are airborne, and in no time we are cruising over Lake Baikal as the sun rises. "The Pearl of Siberia" as the lake is also known is the largest freshwater lake in the world and contains a staggering 20% of the world's surface fresh water. This magical flight is over far too soon as we descend into our next adventure that would be Irkutsk.
Again we need to walk only a short distance to our hotel, although this time it proves a little tricky across a very busy fast road with no pavements. We have a little time before we are due to go back for our tour and Steve remembers that there is an An-24 mounted on a roundabout somewhere close. We go for a walkabout but the old ARP403 Rework Factory is now closed and we can't even find any roundabouts - maybe it's been taken away and scrapped? We decide to continue our wander to peek over the wall at the nearby Military Technical School, where I feel like a spy shooting candid photos of Il-76s and Tu-22s. [photos]
It's finally time to go to the airport, so we put our lives at risk again crossing the road and enter via the old terminal. While Olga disappears to sort out our paperwork we hang around looking suspicious while marvelling at the old architecture in this building. Ten minutes later a large man in an even larger hat that looks like a boat walks quickly past us with Olga, red faced and almost running, in tow. This doesn't look at all good! It seems like the man who was supposed to show us around is not here and to cap it all off the airport has lost our paperwork! After another tense 30 minutes it seems this man will be our guide now. He obviously wasn't impressed and we suspect that he was looking forward to another day in the office with his feet up.
Irkutsk Airport is laid out very strangely. The main ramp outside the terminal was only being used by Russian jet equipment and a couple of Airbus' were parked on a remote ramp towards the runway. The An-24/An-26 ramp is up a hill even further from the terminal next to the rework facility, and there is also a military ramp at the other end of the airfield.
By the time we actually got to the An-24 ramp all the aircraft that were parked when we landed had flown away... bugger! We decide we should shoot the An-2 and Mi-8s that are parked near this location, and this is where we hatch our cunning plan. Steve instructs us to take as long as we can shooting these few aircraft in order to stall "Mr Boat Hat" as he is obviously just trying to hurry us up so he can sit in the office. We are hoping some An-24s will fly back in while we stall for time.
The ruse works to an extent as a couple arrive and we ask to go to shoot them. Begrudgingly he agrees but tells us we need to wait for the passengers to disembark and be bussed away. Of course this is fine by us as the more we stall the more chances we have to capture some more arrivals. After filling out boots with the current crop of Antonovs we direct our attention to the stored airframes in the ARP403 rework facility that are enclosed by a fence. "No" states our pissed-off guide "the facility is closed". We lose the will to live at this point, resigned to the fact that we have been well and truly screwed over.
Suddenly a van arrives and a man called Anotoli jumps out and dispatches our long faced guide back to the terminal. Everything now changes, as it seems like Anotoli was supposed to be our guide in the first place. Calm is again restored when we ask him about the ARP403 rework facility, and with a quick chat with the man in the hut, the gates are open and we are given ten minutes. We don't need to be told twice and off we scamper like children in a sweet factory.
We were able to take a few backlit shots of the technical school beyond the old ARP403 rework facility. [photos]
As our new host is far more amenable we ask about shooting a couple of civilian Anotonvs parked at the end of the military ramp, where we explain that we will shoot away from the top secret An-12s and not be naughty boys. Everything is paradise as he agrees and we comply. We end up shooting on the whole airfield thanks to our new friend and leave with CF bards full and smiles on our faces.
So our morning at Irkutsk ends well after beginning to look like a total disaster. What plans do we have in store for the afternoon? The day will get even better in part 4.