Murmansk (ULMM) - June 2010
Subscribe to receive updates via: e-mail list | Facebook | Instragram | Twitter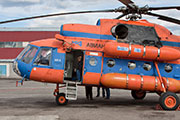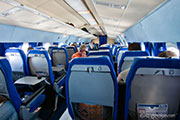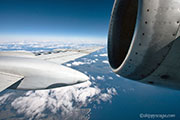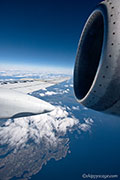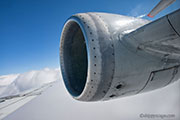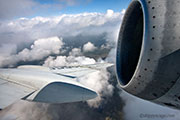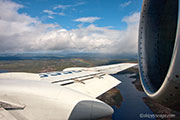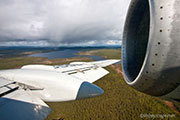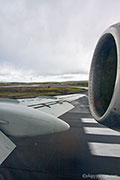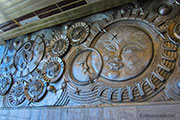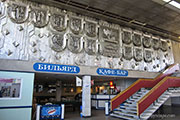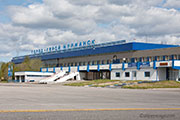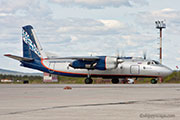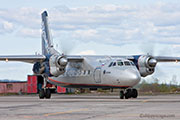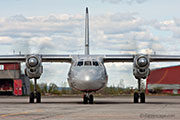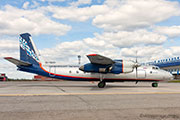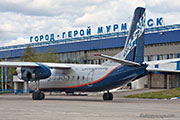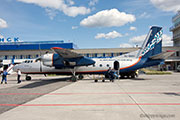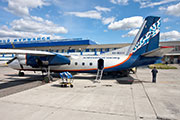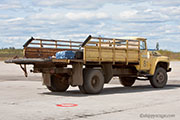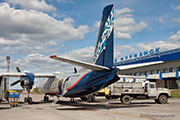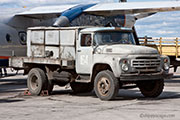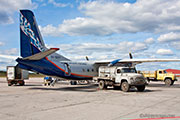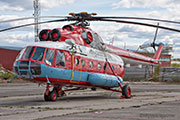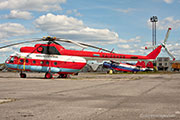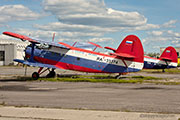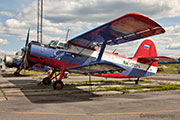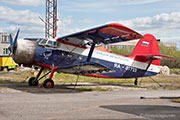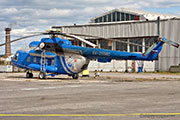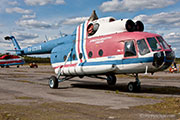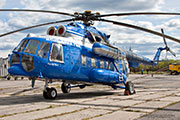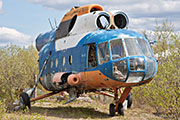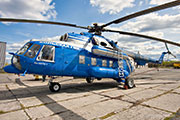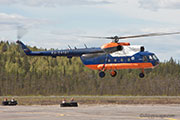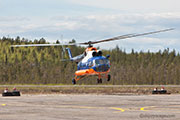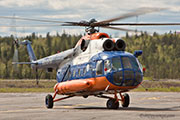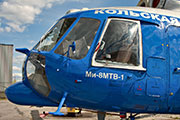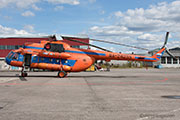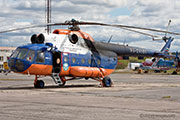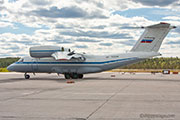 ---
---
After our rather hectic day around Pulkovo we had a flight to catch heading north on an aircraft that I've always loved but never flown on. It was time for my first "pocket rocket" ride on a Tu-134A!
As we were some of the first to check-in for our flight, as is normal when Olga is in charge, we would be able to pick and choose where we would be seating. The UTair check-in guy was keen to give us seats near the front of the aircraft, but we had different ideas. "I'd like the last row window seat please" I asked. He looked at me quizzically and in disbelief, so I assured him that was where I wanted to go. He shrugged and gave me seat 19D - these seats are unpopular as you are close to the engine and therefore in the part of the aircraft with the most noise. Mark behind me asked for 19A followed by Steve wanting 19B. I can only imagine what he told the other staff later about these crazy foreigners that wanted the noisiest seats.
Time stood still as we waited for boarding to be called. Eventually we were summonsed to get on the bus to our aircraft. Next to our mount, which was a sold-nosed Tu-134A-3 RA-65560, was another example of the fleet in glorious low light. I decided that this was too good an opportunity to miss, so I decided to hang back on the bus and change to my 10-22mm lens to try to take a photo before the security guards would tell me no. I hopped out and sauntered to the end of the line to the steps that was already stationary with my camera in my left hand shielded by my body waiting my opportunity. A quick shot and already one of the guards raised his finger to say no, but it was of course too late. Little did he know that earlier we had the run of the place, but even if he did, it wouldn't have made any difference!
Once on board the back of the aircraft was like the rear of a school bus with excited geeks waiting for the whine of the engine start. For a couple of us this was our first time aboard a Tu-134, but even those who had done this many times before couldn't stop telling us about the different engine pitches and bumps before we would finally get airbourne. With cameras now all over the aircraft the cabin crew politely told us that cameras were not allowed while flying - yeah right. the take-off roll seemed quite long but when we got the air below the wings we climbed in a fashion that "pocket rocket" is very apt. The Tu-134 first flew in 1963 and is a 72-84 passenger aircraft with unimpressive swept wing of 35 degrees. UTair is now the largest operator of this type in the Russian Federation and is looking to replace the fleet with Boeing 737 and CRJ-100LR aircraft. There are now very few opportunities to fly the Tu-134 anywhere and it took a lot of logistics to add this into the itinerary. One of our party was logging the exact take-off and landing times, as aviation geeks will, and with a take-off time of 09:32GMT and a landing time in Murmansk of 11:06GMT this made our flight time 1:34, which is very apt. What are the chances or that happening?
Murmansk came at us with some overcast as we decended, which is what we were told to expect, but the sun broke out as we landed and the weather didn't look as bad as we thought. We were picked up by a very plush coach and after check-in at the hotel had a few hours to spare before dinner so it seemed like a good opportunity to go for a wander. I really wanted to see the famous dockyards, so a half hour walk found us at the edge of these huge docks, but with limited chances to really shoot as most access roads had barriers with guards, even though this wasn't the Navy part of the area. What we saw was still really interesting with masses of cranes and ships, this was like the London Docklands in the glory days before it became an expensive place to live. The sun here didn't go below about 20 degrees above the horizon as this city is so far north, being above the Arctic Circle, but lucky for me I have been working shift work for so long that light doesn't bother me.
The next morning our coach arrived to take us back to the airport. This would be a lazy day as our only port of call would be here, plus we would be flying out later on. The airport is typical or the old Soviet days with ornate decorations all around the small terminal. Our first task was to shoot the incoming Aeroflot-Nord An-24RV arrival, which coincidentally would be the same aircraft that we would fly on later in the day. Our escort decided that standing right outside the terminal airside would be the best place for us, but Steve soon had that changed as it was backlit, so it was off to the right side of the ramp where hopefully he would turn in front of us on his taxi in. 20 minutes later and the An-24 landed and taxied in right where we guessed he would, just as the sun went in of course. After the passengers disembarked (de-planed is NOT a word airlines take note) we were free to walk around and get some static shots. "A set of steps you say?" Of course that's the place for me to stand.
The next plan of action was to shoot on the helicopter area to the north west of the passenger ramp which was only a short walk but of course the airport needed take us by bus. We wandered the ramp and found a very nicely red, white and blue painted Mi-8T belonging to Avialesookhrana along with a pair of similar coloured, but in a different scheme, An-2s belonging to Murmansk Airlines. Apart from these immaculate examples there was also a VIP configured Mi-8MTV-1 belonging to Kolskaya GMK in a beautiful blue and silver colour scheme and in addition was fitted with square windows and a weather radar protruding out of the front. Adding to the bright colours on the ramp were couple more Mi-8s that incorporated orange with all these bright schemes, I would imagine, making life easier for them to be seen in the white winters.
Negotiations were already taking place regarding the possibility of a Mi-8 flight while we wandered this ramp. Our time was up for now so we were driven back to the terminal in the airport bus and we were led into the VIP lounge on the first floor (second floor to the Americans out there), while phone calls were made and costs calculated. While we waited, drank beer or vodka and slept, a Russian Air Force An-72 arrived on the ramp right outside of the terminal. Annoyingly there was not one spot from any of the windows where we could get a clear shot due to trees and lamp posts. Time ticked by, but we were in no hurry as our flight was hours away and were weren't due to go anywhere else. We were eventually summonsed to go back airside via the special VIP stairs to get back on our bus to go back to the helicopter pad to go flying. Of course most of us took the opportunity to grab a quick backlit shot of the An-72 although we were told not to, after we had already too our snaps.
Our ride was Mi-8T owned by Konvers Avia and was last noted onboard the nuclear ice-breaker "Yamai". Again the group turned into chattering schoolchildren as we settled down and were briefed on what we could do. We were told that all the round windows could be unlocked and flipped up and inwards to allow photography, much like a porthole in a ship. The fuselage filled with fumes as this old and large helicopter spooled up and when the RPM of the rotors reached a certain point the chopper began to literally bounce up and down. Smile and laughter all around, except for poor Olga who doesn't like flying at the best of times. We taxied to the take-off point and up we went passing another airfield less than a mile away containing An-2s that we never new about,which oddly enough was called Murmansk Airfield, as opposed to the Murmansk Airport that we had just departed from.
The views along the river were magnificent from my point of view as I love industry and especially dockyards. We even saw the Russian Navy aircraft carrier the Admiral Kuznetsov which is ski-jump equipped and is the Navy's Flagship. This ship normally carries Su-33, Su-25 and Ka-27 types and is slated to also accept the new MiG-29K and the PAK-FA in the future. We flew up and down the river for about 30 minutes and had a great time. On the way back we passed a monument with a Su-15 "Flagon" on a pole, another type I've never seen before along with what looked like a Yak-3. The Su-15 was an interceptor that was operated solely in the Soviet Union and was the type that was involved in most of the highly publicized confrontational incidents with western aircraft, such as the 1978 missile attack of Korean Airlines 902, a Boeing 707, which force landed onto a frozen lake, the ramming of an Argentine CL-44, and the most notorious being the shooting down of Korean Airlines Boeing 747 on flight KAL007.
[Murmansk from the air in a Mi-8 photos]
This more than made up for the cancellation of our planned Mi-8 flight in Saint Petersburg that many tourists fly on. How can you beat a flight along the dockyards of Murmansk above the Arctic Circle? I doubt many have done that. Back on the ground and we spent a few hours in the terminal awaiting our next flight contemplating our relaxed but absolute superb day.
Next stop Arkhangelsk-Talagi