Sheremetyevo, Russian Federation (UUEE) - June 2010
Subscribe to receive updates via: e-mail list | Facebook | Instragram | Twitter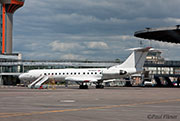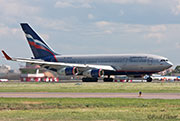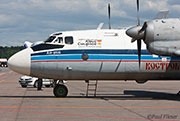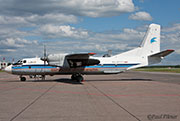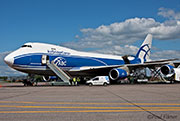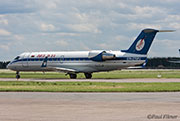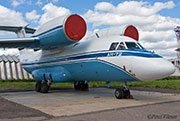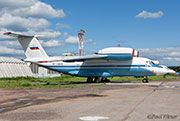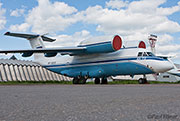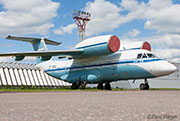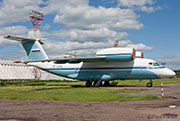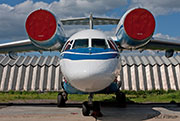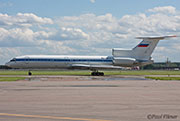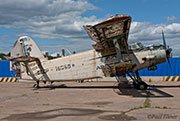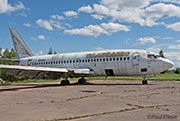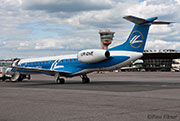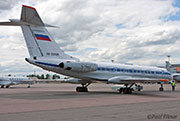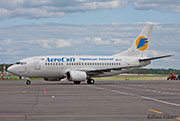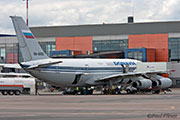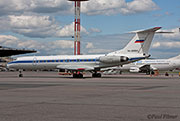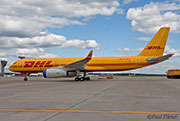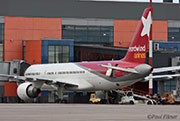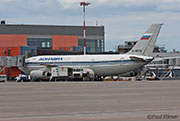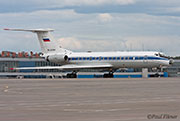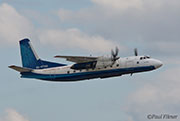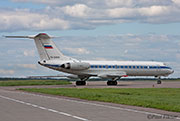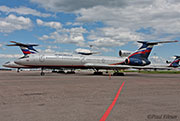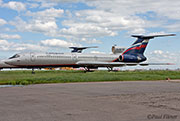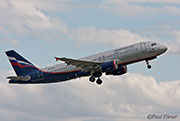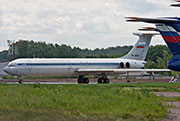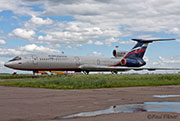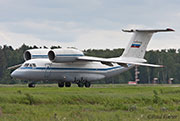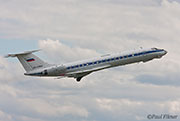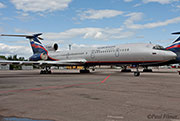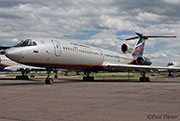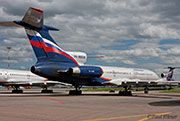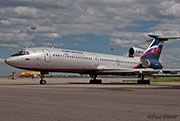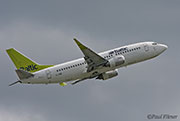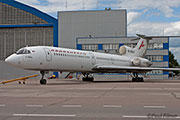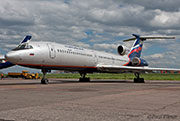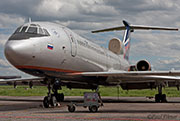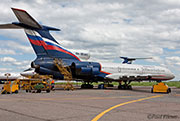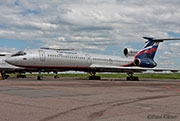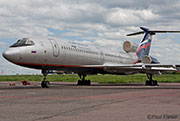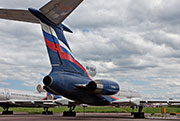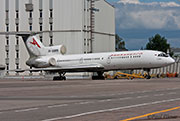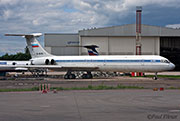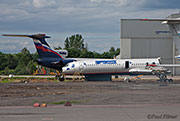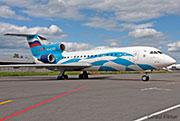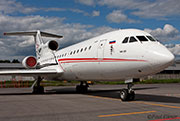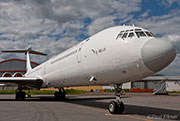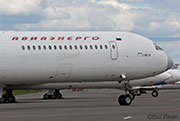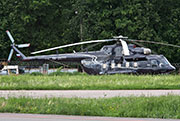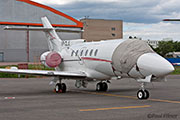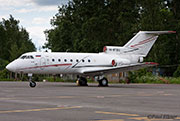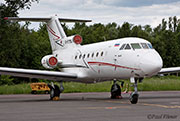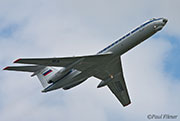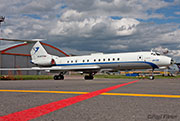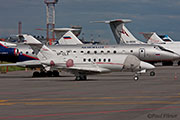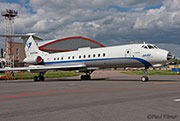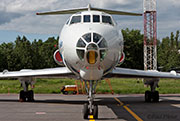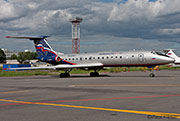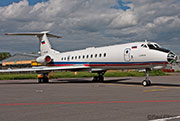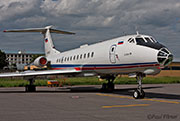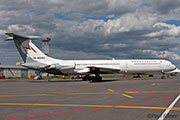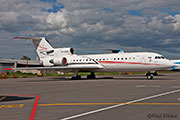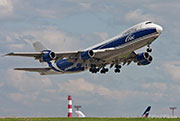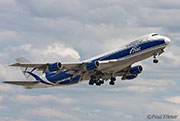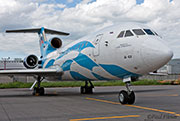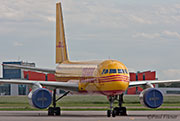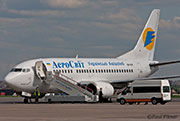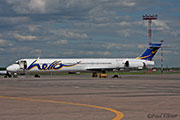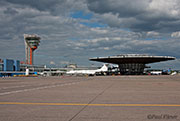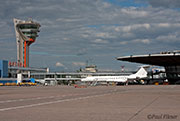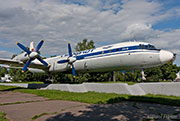 ---
---
After security formalities at an entry gate on the north side we were joined by an airport car and two personnel who would be our escort and guide. Steve had pre-warned us that he didn't know what to expect as some trips here had apparently been great and others had been rather rushed with little access granted; so this could very well be another let down. The north side of the airport contained the domestic terminal plus cargo and executive jet areas while the south side contained more Western equipment and only airliners so it was an easy choice for us to make about which side to go for.
We were instructed to follow the car and it sped across the ramp to the cargo area and towards an An-26B belonging to Kostroma Airlines. We stopped short and alighted to get some photos. The aircraft was getting ready to depart and it suddenly dawned on us that our escort had actually realised this and raced to get us into position before it left. Score one for us - our man knew what we wanted and was keen to help! As we were now down on the eastern end we continued along the cargo ramp to find a pair of immaculate Air Bridge Cargo (ABC) Boeing 747-400ERFs parked on the ramp and being loaded.
The sun was already tricky in terms of both its position and angle but further along I had already spied a pair of military An-72s. Not knowing if we would be allowed to shoot these I took a couple of sneaky shots with my longer lens, but the heat-haze resulted in those shots turning out to be rather horrible.
Luckily though it turned out that there were no restrictions on shooting these aircraft which were from the Federal Security Service / Border Guards (FSB). Both were in a very smart blue and white scheme and as we shot them an unmarked Tu-154M (RA-85084) taxied past. It later transpired that this is also an FSB asset and used as a VIP aircraft.
At the end of the airfield was a small compound, most likely used for training ground crews or possibly even the airport fire service; we couldn't be sure which. There was a very sorry looking Transaero Airlines Boeing 737-200 (VP-BTA) which had been there since 1999, by all accounts, along with a similar looking An-2R (CCCP-16068) complete with flat tyres and rotten fabric.
We then drove back along the large apron in front of the terminal where there were a few Tu-134s parked. The first pair (RA-65994 and RA-65995) were both in basic Aeroflot colours without titles and again these are listed as being operated by the FSB. This airport seemed like a main base for FSB transport aircraft. Also present was one of the last remaining Il-86s in service. This was operated by Donavia which was one of the original "babyflots" after the break up of the Soviet Union, but has now come back under the main Aeroflot umbrella.
One aircraft that really stood out was a newly painted DHL Tu-204-100 (RA-64024). Looking just like a Boeing 757 with winglets it certainly begged to be photographed and, as we positioned ourselves for the best angles on it, an An-24RV belonging to Arkhangelsk Airlines took-off into the sun. Amazingly, none of us had even noticed that this aircraft was on the airfield!
Our next stop was the maintenance and storage area. Here there were a bunch of Tu-154s in the new Aeroflot scheme certainly awaiting the scrap man, with a couple already half gone. An Aeroflot A330 was parked having its engines worked on, while across the ramp was a very nice looking Tu-154M belonging to Aviaenergo, also apparently withdrawn from use. Next to the already scrapped Tu-154s was Il-62 RA-66492 which last flew with Aeroflot and is used by the Moscow School of Civil Aviation as a rescue trainer. It has been here well over ten years and is still in very good condition so let's hope it escapes the fate of the aircraft it overlooks!
Yet another FSB An-72 landed as we were shooting in this area, but this time it was in the more familiar older, basic Aeroflot colours. Next up was the business jet parking area which is a single long line on the north west of the airfield with most of the aircraft belonging to the bigger biz-jet category of Tu-134s and larger.
This is the base for Aeroflot Plus which is Aeroflot's VIP charter subsidiary. It operates a single Yak-42 plus three Tu-134s and are all VIP configured. We saw the funky painted Yak-42D (RA-42365) and one of the Tu-134AKs in the company's standard scheme, which is the new Aeroflot colours with a large globe superimposed over the ribbon on the tail.
Another VIP charter operator here is Jet Air and it had a pair of Tu-134A-3Ms parked up. RA-65723 was in a smart white and grey scheme with a blue cheat-line and the second example, RA-65930, was white with a blue and red stripe along the fuselage. Both looked very smart.
Another interesting operator parked here was Lukoil. As you can probably guess this a an oil company and it operates a Yak-40 (RA-87353), a Yak-42D (RA-42424) and a BAe 125-700 (VP-CLX). In addition to the aircraft we saw the company also has a varied fleet of other Russian and Western aircraft including Boeing 737s and Falcon 900s. I've often seen Gazpromavia's aircraft at various airports in Russia but this was my first time seeing Lukoil examples. For the rotary fans among you we only saw one helicopter on the airfield this time out, an Mi-171TP belonging to Alfa-Aero which was parked in the long grass.
Star of this end of the ramp undoubtedly goes to the Il-62M/VIP belonging to Aviaenergo which also operates Tu-154/VIPs and Tu-134/VIPs. It's rare enough to see an active Il-62 these days but a VIP configured example is all the more unusual. Mention must also go to the Il-18V preserved across the road from Terminal 1. It's been here since 1979 but is still in excellent condition, sitting on its main wheels on a concrete ramp in the park.
This afternoon capped an excellent day all round and we were able to photograph numerous interesting Russian types. The following day would be our last and we were due back to Domodedovo, wondering what was in store for us after our nightmare trip there a few days earlier.