Tolmachevo-Novosibirsk, Russian Federation (UNNT) - July 2009
The next morning we took another western airliner, this time an A320 of S7, from Irkutsk to Tolmachevo-Novosibirsk. Unfortunately our planned Tu-134 and Tu-154 flights with Alrosa, down to their Mirny base, were scuppered at the last minute by the Russian Authorities with no explanation given as to why!
After a three hour flight we landed and immediately spied more of the Russian fleet of S7 parked at the far end of the airport and, as we taxied in, an Aeroflot DC-10 was being readied for departure. Unfortunately I only managed a shot through the Airbus' scratched window.
Once again our hotel was a mere two minute walk from the terminal so we checked-in and quickly turned around and walked back to the airport where we were greeted by not only an Airport Authority (AA) representative but also the local press and a Russian spotter! Airside passes were sorted out and we all trooped through the various checkpoints to find ourselves airside once again.
The AA girl was desperate for us to shoot the new Airbuses on the terminal piers, saying that it was fine to wait until one left or another arrived. The group exchanged disappointed glances and Steve tried to explain to her that it was all those old aircraft down the other end of the airfield that we really wanted to photograph. We let it be known that we really couldn't care too much about the western aircraft and that the only reason we were there at all was to shoot the Russian-built airframes. Cue quizzical looks as it seemed no one could really quite understand why we always wanted to see the old aircraft and not the shiny new ones!
The poor girl was now beginning to look a little rattled and made a frantic call on her mobile phone while we politely feigned interest in an S7 A320 that was taxiing in and even took some shots to make her feel not quite so bad. Eventually a minibus arrived to pick us up and we were driven further down the field towards the stored aircraft - not quite right up to them but just about close enough for a couple of photos.
We were asked to stay on one side of an arbitrary line and immediately the Russian spotter started stepping over it to take photos. We reined him in a couple of times but then started to walk towards the aircraft ourselves. "No you must stay here," we were told and it was at this point that Steve started to get a little irritated and explained that we'd travelled there specifically to shoot the older aircraft. Olga tried to clam Steve down and talked to the AA girl who once again got on to the phone for another frantic few minutes.
The next directive we received was that we could now walk towards the aircraft but we must not encroach the S7 ramp where half of those of interest to us were parked. We'd managed to shoot around half the airframes by the time we got to the next imaginary line, this one being where the S7 maintenance ramp started, but pushed our luck and started walking and shooting until a little man from one of the S7 hangars came running out shouting that we couldn't take photos of the once magnificent Russian jets.
More tense moments and more phone calls ensued and we were told that this was as far as we could go, and, what's more, S7 didn't want their aircraft photographed anyway! The aircraft consisted of a mixture of Tu-154 and Il-86s and certainly the majority will never fly again. Beyond the S7 ramp lay an immaculate white EW-registered An-12 from Belarus (EW-284TI) and unsurprisingly this was our next goal, but it was proving very difficult to convince anyone that we could still go past the now out-of-bounds S7 maintenance area to get there.
After much discussion tempers were rising and Steve threatened to simply escort the group off the airport. Yet more phone calls followed and we received confirmation that we could take the bus to the An-12, but that we must not shoot the S7 aircraft. We arrived at the An-12 and the sun promptly disappeared behind the largest cloud of the day. The security guy was trying to hurry us up, saying that we had only five minutes, but by now Steve was in no mood to take any more instructions and made it quite clear to them that we would be waiting for the sun to reappear!
In the meantime an An-24 RA46642 had arrived and parked next to us but it was backlit from our position. Steve started to walk to the other side of the An-24 and Olga, who by now was beside herself, could be seen throwing her hands in the air and saying "he is arrested, he is arrested," while Steve casually carried on and took his photos. The sun did eventually reappear but this meant that the aircraft were now blown out. We took photos all the same and then were allowed two minutes to shoot the An-24. The sun here was relentless and it's angle in the sky made most of the photos taken on the trip very tricky to process.
We resigned ourselves to the fact that we should just leave the airfield now the An-12 had been shot so we piled back into the minibus and, half way back to the terminal, an Avia Traffic An-24RV (EX-051 from Kyrgyzstan) landed. This was such a rare catch that we persuaded the bus driver to stop so that we could shoot it taxiing past. Unfortunately it took an outer taxiway, too far away for decent photos. We did eventually get a little break though as an Alrosa Tu-154 landed and zoomed past us on its way to the terminal. The question was, was this a break or was fate now just rubbing it in? That may well have been one of the aircraft we should have been flying on!
We had one last push before we left and managed to persuade the AA girl that we should shoot the Avia Traffic An-24 at the terminal. Thankfully the request was granted and we scampered off like children in a sweet shop. This turned out to be the gem of the morning and it even had a half-hearted puddle in front of it so that we could attempt some more artistic shots.
The day so far had been an almost total disaster and Steve told us that in the four or five times he had visited this airport they had never imposed any restrictions on what could and couldn't be photographed. We were all despondent at that particular moment in time, but the day was about to get progressively better.
The hotel we stayed in was actually very pleasant and was the newest one that we stayed in on the entire trip. The following morning I noticed that we overlooked the military ramp as my room was so high up. After unscrewing a lever on one of the windows I found that I had a clear shot of some of the aircraft including a Russian Air Force Tu-134 and An-26. There was a nice Tu-134 on the line in the old white and blue colour scheme and the large red star on the tail, but unfortunately I couldn't get an angle where the trees didn't get in the way, even after using a second room a try!
Subscribe to receive updates via: e-mail list | Facebook | Instragram | Twitter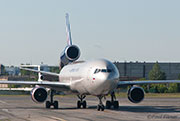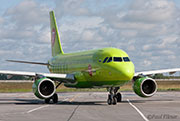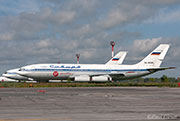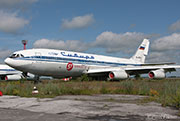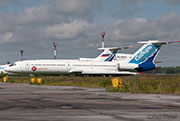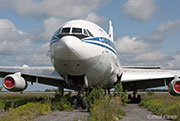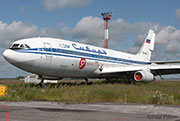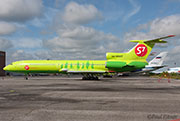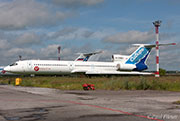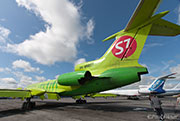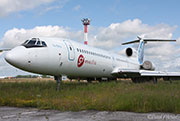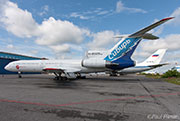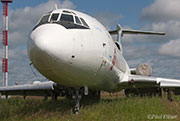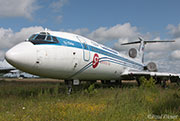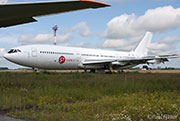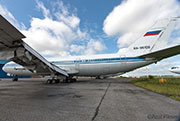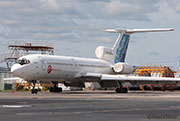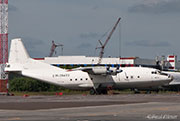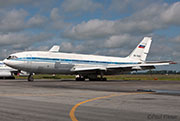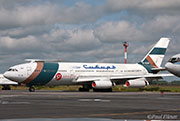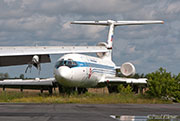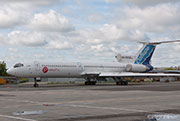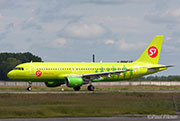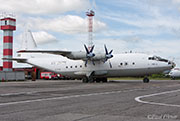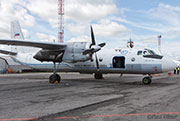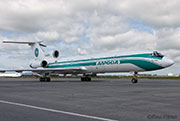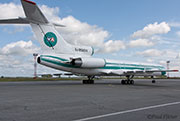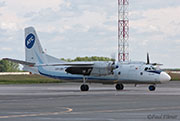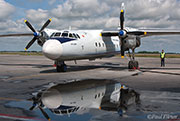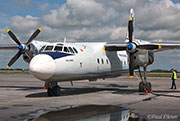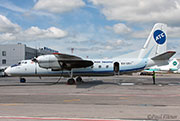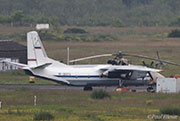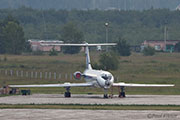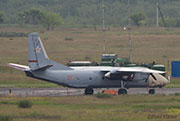 ---
---