Vnukovo, Russian Federation (UUWW) - June 2010
Subscribe to receive updates via: e-mail list | Facebook | Instragram | Twitter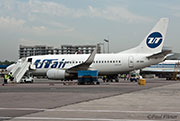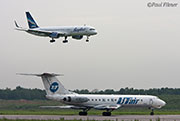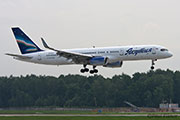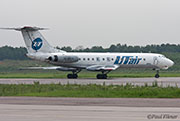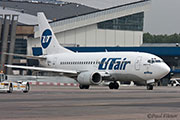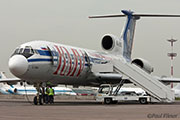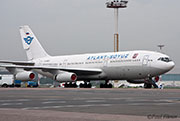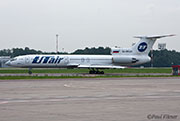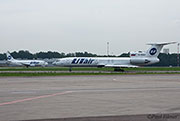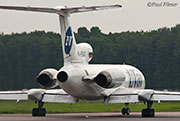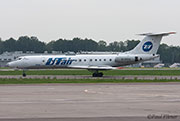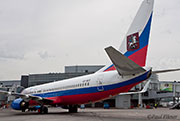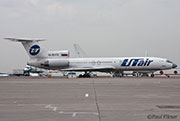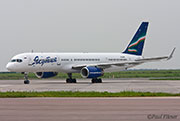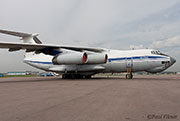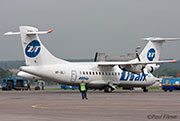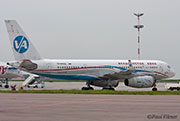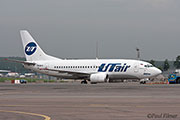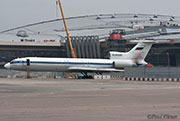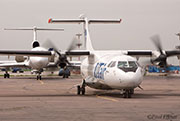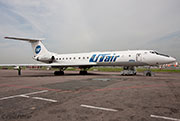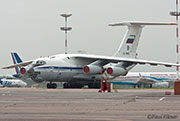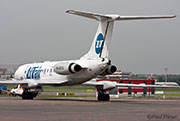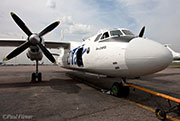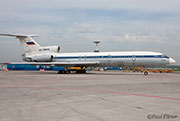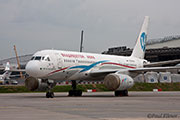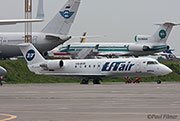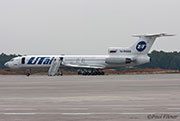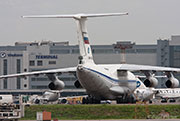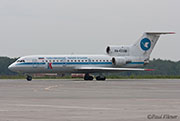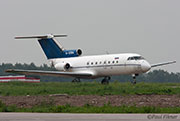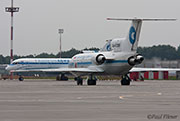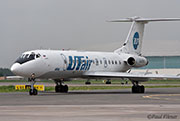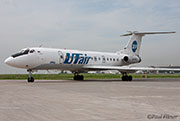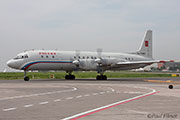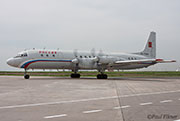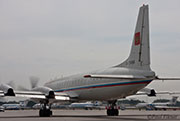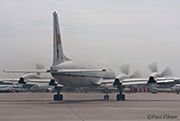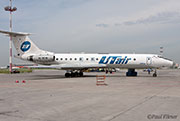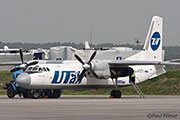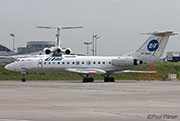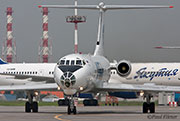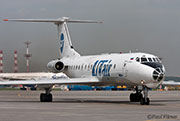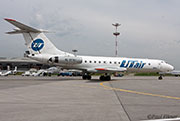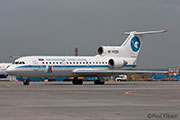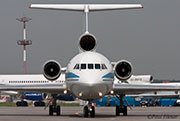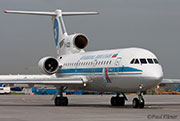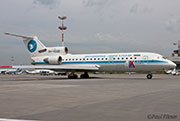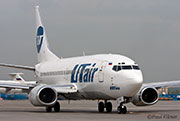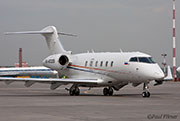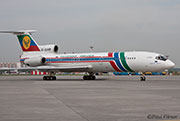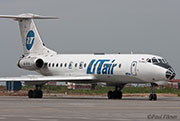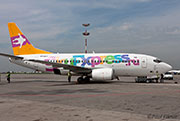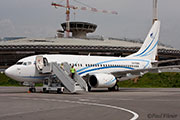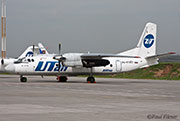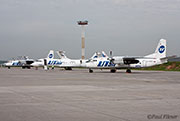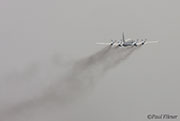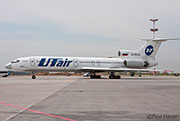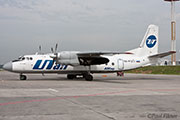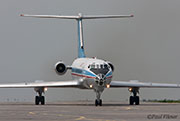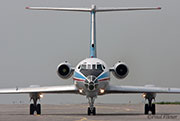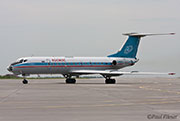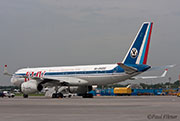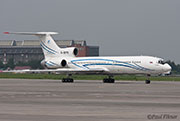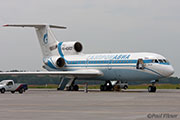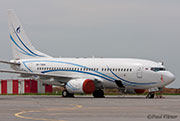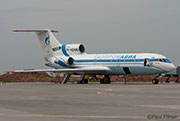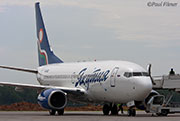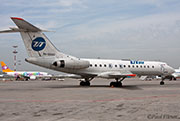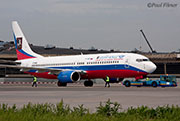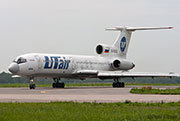 ---
---
After the high that was Arkhangelsk it was time to travel back south to Moscow and the second Tu-134 flight of this trip.
The following morning we were greeted by low cloud and rain which we were told is pretty typical weather up here. We were so lucky to have had glorious weather the day before for our access to the pair of airfields. What Tu-134 would await us for the return flight? Much to my joy it was a glazed-nosed example in the form of RA-65148. We had flown both the solid and glass-nosed examples which left me happy as the chances to fly these classic pocket-rockets is slipping away rapidly.
Our arrival point was Vnukovo in Moscow where the VARZ-400 rework facility is located. I had visited this depot the year previously, and we would be there in the afternoon, but on this occasion our first port-of-call was the main ramp on the airport itself. On the taxi towards the newly built terminal it was evident that the majority of the aircraft here are still Russian types with maybe 10% being western. A stark contrast to Domodedovo as we would find out later. The baggage reclaim was absolute chaos and it was a full hour before our flight was displayed on one of the baggage reclaim belts. Time was ticking away and with all that Russian hardware outside begging to be shot. Couple this with the fact that our times today were already tight it made for a very tense hour indeed.
Bags in hand and our airport guide was already waiting for us with a van and after security formalities we were onto an airport bus and ready to roll. The condition this day was challenging to say the least for photography with white skies and dull light. The ramp was dominated by UTAir aircraft all around and with an almost even mix of western and Russian airframes. They are right in the middle of a fleet replacement program and it was great to see Tu-134, Tu-154 and An-24s still in service although the sight of Boeing 737, ATR-42 and CRJ200 aircraft is a sad sign of things to come.
But all is not bad at Vnukovo as there are still plenty of other classic airliners to be found. The biz-jet ramp was full of Tu-134s and Yak-40s and it seems like the Tu-134 has really found a new life as an executive transport, which is nice to see. All those that we saw were immaculate, but unfortunately we have never been allowed to roam that ramp. One of the more interesting aircraft on the terminal ramp was a Russian Air Force Il-76MD that blended in very well amounts the civilian aircraft all around. It carried a 224 LO VTA (224th Transport Aviation) badge on the tail and was fitted with the ball turret in the rear, although minus the twin guns. This aircraft is based at the large Tver base to the north-west of Moscow where the remaining An-22s are also housed.
Other incognito aircraft present were a pair of Tu-154M with "UVAU GA" titles on the nose. These were in basic Aeroflot colours but they actually belong to the Ulyanovsk Higher Civil Aviation School which is Russia's oldest and largest civilian aviation training establishment. The school has been around since 1935 and they teach everything aviation including type ratings on all the heavy metal you could think of including the An-124. Atlant-Soyuz is another airline moving to western aircraft. We saw both the now ultra rare Il-86 operating in their old colour scheme and the Boeing 737-800 in their new colours which is the replacement for the unsuccessful Il-86, although this seems to be a strange replacement simply due to the two types very different passenger loads.
Another type not seen too often is the Tu-204 and here we found two of them. RA-64026 belonging to Vladivostok Avia was the first production Tu-204-300 and RA-64022 with is a Tu-204-100 operated by KavMinVody Avia usually shortened to KMV. The 300 series is six meters shorter than the 100 version but has a longer range and is more efficient. Vladivostok Avia was the launch customer for this variant and currently operate six of this type, with the only other operator being Air Koryo based in North Korea who operate a single example.
On the same side of the airfield as the VARZ-400 facility is base for Rossiya, which is the state owned airline which also has a VIP and government fleet, which is mostly parked on that ramp. Of course that ramp is firmly out of bounds to visitors and definitely photography. While we were wandering around close to one of the taxiways an Il-18 from Rossiya was towed from its ramp and placed on a taxiway closer to where we were shooting. We took the assumption that it would have to travel past us to get to the departure runway and the rules here are that anything in the civilian side is fair game to shoot. We were currently in the correct location to shoot this airframe if he were to taxi for departure, and with our host wanting to usher us along we took the collective decision to feign interest in a Boeing 757 of all aircraft, which would keep us in our current spot. The Il-18 started each of its engines one by one so we hoped that this wasn't just an engine test.
In the mean time the sun appeared as a Tu-134 from UTAir came towards us after landing. We were clear of his path until, at a fast taxi, he turned towards us sending our guide into a mild panic as he tried to usher the group back towards the 757. We complied slightly as the Tu-134 turned away from us again at high speed as the captain opened his cockpit window and gave us all a wave. He was just playing and having fun with us. And so now the sun was out at last, so it was time to get those all important 757 shots again while keeping half an eye on the IL-18 that was still running. Slowly she began to move and was definitely taxing towards us where the Tu-134 had just gone by. The sun was still out as she crossed the inner taxiway onto the ramp we were standing on, but just as she got to us the sun went behind another cloud. It was certainly the highlight of the day to see an active IL-18 move and doubly nice to have one in such close proximity.
We saw a couple of operators of the iconic Yak-42. Kuban Airlines based in southern Russia have a fleet of 12 Yak-42s but have announced that they will be replaced by either the Boeing 737-700 or the An-148. Another prominent operator of the type is Gazpromavia which is an airline owned by the oil giant Gazprom, and we saw two examples in service on the ramp here. We saw the old colour scheme on the active Yak-42s plus their new scheme on a Tu-154 that arrived while we were shooting. As a sign of things to come a Boeing 737-700 also was seen in the new colours.
And then we come across a couple of real gems that are not often seen. Daghestan Airlines have a total fleet of only four Tu-154s with three of the most modern Tu-154M and a single Tu-154B-2 which is a much older variant - It was this single example that we caught taxing. This is the sole airline in the Republic of Daghestan which is a predominately Muslim country surrounded by Azerbaijan, Chechnya and Georgia and is still suffering from a guerilla-war. Kosmos has a small fleet of An-12 and Tu-134 aircraft and it was one of these latter aircraft that we were lucky enough to see arriving on a scheduled flight.
Our time was up too fast and we could have stayed here all day as this is a real busy airport with lots of Russian hardware.
All in all a good day for Russian types although the weather and light didn't really play ball for us.
Next stop VARZ-400 Vnukovo Overhaul Works.