Yakutsk, Russian Federation (UEEE) - June 2012
Subscribe to receive updates via: e-mail list | Facebook | Instragram | Twitter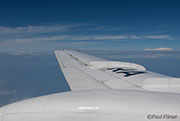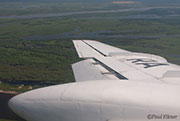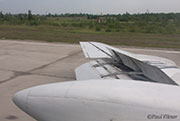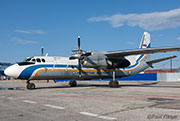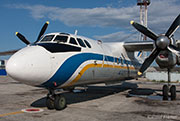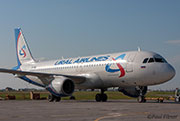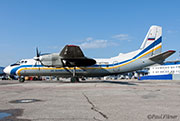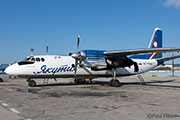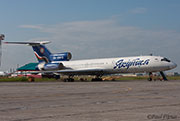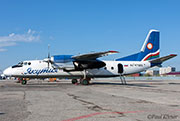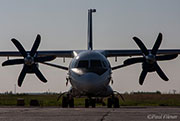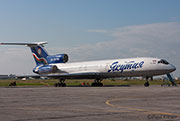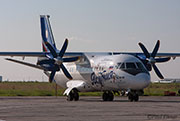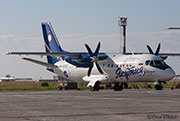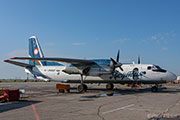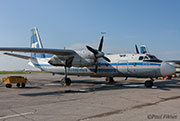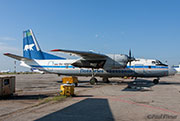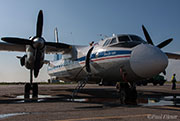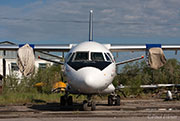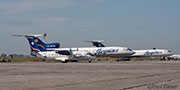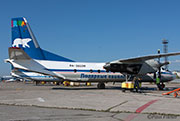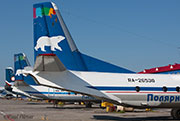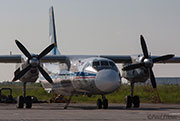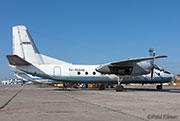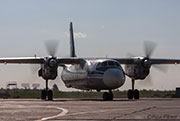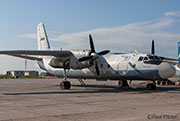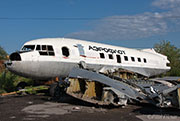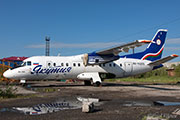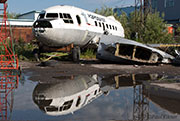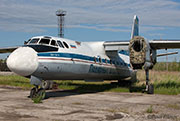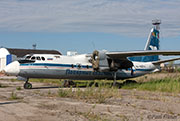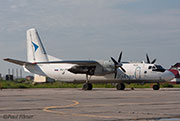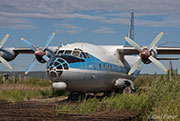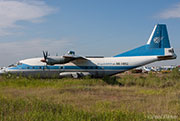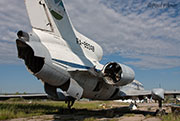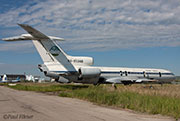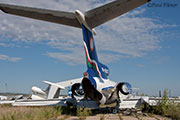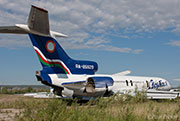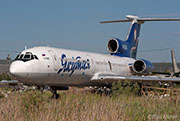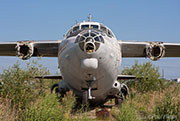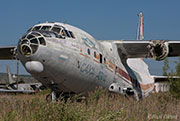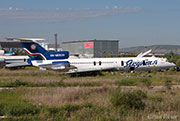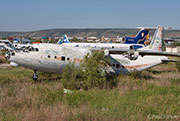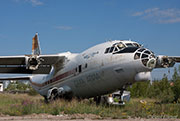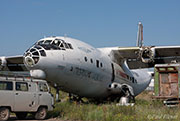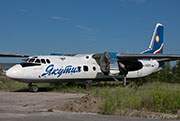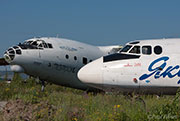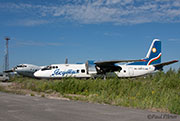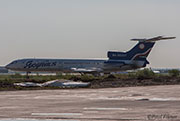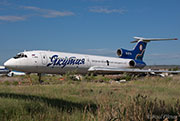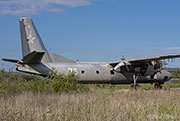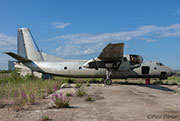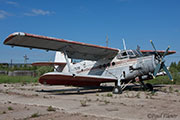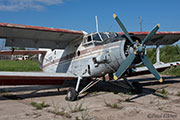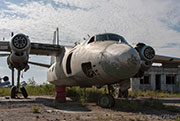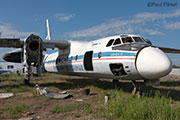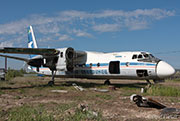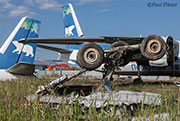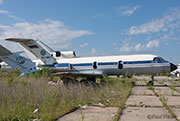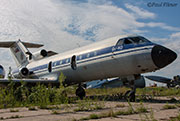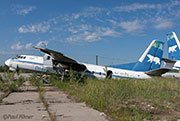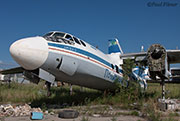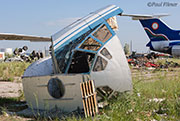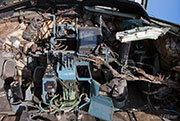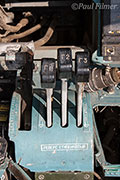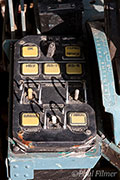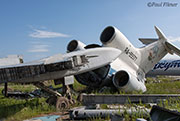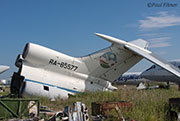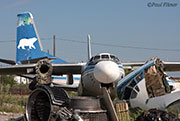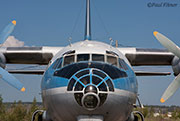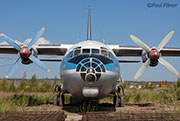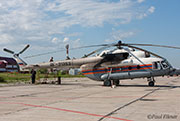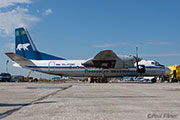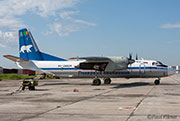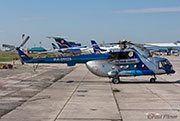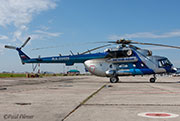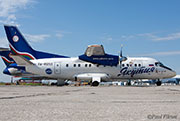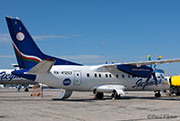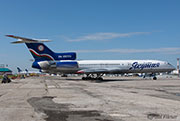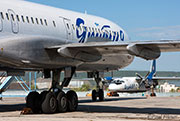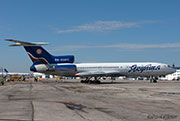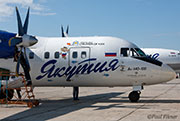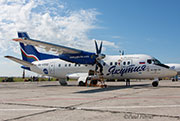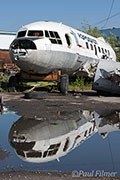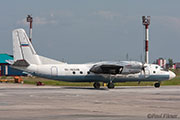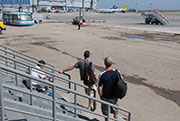 ---
---
We landed at Yakutsk in bright sunshine and when disembarking from the Alrosa Tu-134, were filtered off onto our own bus in order to expedite our exit from the airport.
This was done for us even though we weren't due to tour Yakustsk Airport until the following day, as today our destination would be Magan, or Yakutsk-Magan as the airport is officially called.
I managed to get a hurried 10mm shot of our mount before the wagging finger of a security man gestured me to stop.
After an evening of drinking and socialising at Yakutsk-Magan, the group assembled at 07:30 in the hotel lobby, mostly looking the worse for wear. Today was an early start as we had a lunchtime flight booked on a Yakutia Tu-154M, and we needed to make the most of the time on the long ramp at Yakutsk Airport.
Luckily the weather was on our side, and it was great to see that our young airport guide also had a camera around his neck.
As the airport is simply a long stretch of tarmac, it was a relatively easy decision that we should simply walk down one side and then back on the other.
As time wasn't on our side we also needed to stick together so that we wouldn't be in each other way when taking the shots. Yeah fat chance of that!
There are still a bunch of An-24 and An-26s flying in and around this region. The further away you get from Moscow, the more likely you are to find the older aircraft.
The were a couple of An-24RVs belonging to Buryatya Airlines, and this was the first time I'd seen one of their aircraft away from their home base of Ulan-Ude, when I visited in 2009.
Novosibirsk Avia had a single An-24RV present in their conservative, in their typically old Soviet style colour scheme. Again I'd only ever previously seen this operator at their base in Novosibirsk. I assume that Yakutsk must be an important hub for all these operators in the region.
Of course there were a few examples of An-24 and An-26s belonging to the locally based Polyarnye Avialinii, just down the road from their secondary base of Magan, which we visited the day before.
This airport, however, is the main operating base for Yakutia Airlines, and they currently fly a mixture of An-24, An-26, Tu-154M and An-140 Russian made aircraft.
This was my first time seeing the An-140 in the flesh, and I really like its looks. Supposedly it's a replacement for the An-24/26 airframes, and the Russian Air Force has already taken delivery of a few examples. I just haven't seen one fly yet.
I was surprised to see an An-140 already stored and engineless, but a little investigation found that RA-41250 was actually the first production example. It was originally built in 1998 but was never delivered at that time. Later it was converted to An-140-100 standards, except the wing, and became the first production airframe to fly in 2006. This aircraft also appeared at Farnborough in 2008.
The next section of the airport is where the disused aircraft are stored. The airport was also performing taxiway work, so the airport really was split into two., with the whole taxiway dug up and concrete being laid. Just before this section was a Il-14LR fuselage CCCP-61663, which is due to be displayed at some point in the future, although I have no idea when.
There were three An-12s present in this graveyard, although one looked like it could fly away that day. RA-11892 of SirAERO looked complete, and it's a real shame to see this great aircraft stranded here, possibly in its last resting place.
The other two An-12s looked like they'd been stored here for a number of years, and had all their engines removed, which results in the nose-up stance of a broken An-12. Sakha Avia was the last operator of both of these aircraft.
There was, of course, a smattering of Tu-154B-2 airframes being scrapped or just waiting for the final chop, much like we're seeing now all over Russia.
There were, however, some other interesting frames scattered around. A faded green Russian Air Force An-24RT sat alongside an old schemed Aeroflot An-2P with flat tyres.
Yak-40 RA-88177, last used by the Sakha Aviation School, also looks very forlorn. You don't tend to see many Yak-40s scrapped or laying around.
The only aircraft that was actually cut-up was Sakia Avia Tu-154B-2, which looked ready to almost truck away. The cockpit was still pretty much intact, which was a surprise.
We were all hot and sweaty by now, but we still had to walk back to the terminal via the other side of the ramp.
There were a couple of interesting Mi-8s parked along this ramp. The MChS Rossii Mi-8MTV-2 example (RF-31353) was being worked on, and had obviously been doing a lot of flying, as the whole tail-boom was coated in exhaust debris from the engines. Either that of it hadn't been washed for years.
A very nice looking Mi-8MTV-1 operated by Nizhne-Lenskoye, was parked next to it, and it was painted in a very striking metallic blue and silver colour scheme. Can't say I've seen anything like that before, almost reminiscent of the old metals cars that people used to own.
The last aircraft we shot were all in the Yakutia fleet, with one of the Tu-154s hopefully being one of birds we would fly on.
Again the An-140 really looked the part.
A great visit, with lots of interesting aircraft, old and new. We walked back to the terminal and checked in, only to find that our aircraft had been changed to a Boeing 737-600. Noooooooooooooo!
Lucky for me, my first Tu-154 flight had been the month previously, in the DPRK, so all wasn't lost, but it was still a major kick in the youknowwheres.
After check-in we went to the departure lounge and were called to the gate. The gate was actually just a set of stairs that led airside, where an airport bus was parked to take the passengers to the aircraft.
There were clearly more passengers than the bus could hold, and while most of the Russians pushed and shoved to get on, a few of us held back and waited for the inevitable second bus to arrive, but another wasn't in sight.
There was a small amount of room at the front in the drivers cab, and three airport staff were already standing there. They gestured for us to get on, but ushered us away from where they were, and where there was room, back to the rear, where there was plainly no chance to alight, as the bus was packed and the doors could hardly close with the people already on board.
And so the doors closed and the bus roared off, leaving us airside hanging around with no airport staff to be found anywhere. Quite a surreal experience, and there we waited for at least 15 minutes, until someone inside the terminal noticed us, and a second bus finally arrived. Only in Russia, love it!