Luton Airport, UK (EGGW) - 1978
Subscribe to receive updates via: e-mail list | Facebook | Instragram | Twitter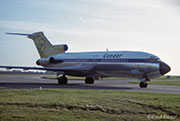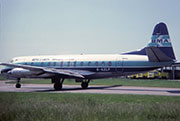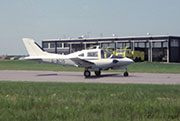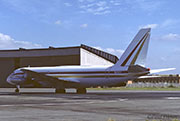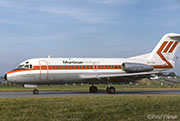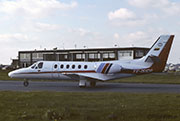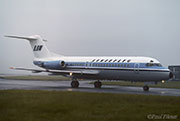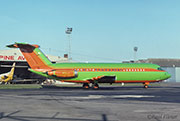 ---
---
Convair 880 N88CH is seen here in a backlit photo from September 1978. Originally with Japan Airlines and Cathay Pacific, when photographed it was owned by Orchester Incorporated and used for executive transport. This airframe now resides in East London, South Africa, and is used as a restaurant.
Fokker F-28s were popular as low-density, short-haul aircraft during this period. First is a Martinair F-28-1000 PH-MAT shot along the taxiway in September 1978. This airline was hardly ever seen in the UK at the time.
Linjeflyg F-28-4000 SE-DGN in October 1978, again on the taxiway, shows how hard it was to take photos here, with the back end being out of focus on a typically rainy dark day. Linjeflyg was usually seen at Stansted, so to see one here made a change.
An interesting paint scheme on this private BAC111-400, N5LC, taken in November 1978; thank goodness I wasn't shooting black and while film! You can't quite see from this angle, but it has a simple smiling mouth painted on the front. The aircraft is now N101PC and is stored at the former Castle Air Force Base in California.