home
24th November 2008 - Wyoming, Nevada and UK travels



Just when you think the year is over for traveling something always pops up. I went up to the wilds of northern Wyoming to document the departure of a C-119 Flying Boxcar to an east coast museum. I can't share those photos yet, but I did take a look around the ex Hawkins and Powers relics since I last visited two years ago.


For comparison (if interested) this is how the place looked in 2006.



Here are the latest photos taken a couple of weeks ago. It's good to see that some aircraft are escaping the scrap man or at least in the process of escaping.



The Big Horn Mountains are very close and also very scenic. I took the opportunity to re-edit and re-upload the photos taken in 2006 and added one extra that I took on this last trip.



Talking about the Big Horn Mountains I found some un-edited photos from that trip in 2006 where I came across a Kaman K-Max helicopter performing logging duties.



In October I was back out at Nellis AFB, NV for Red Flag 09-01. I stayed a number of days this time and took a day out to try my luck shooting at the range approaches about two hours north. Even though we didn't see lots of aircraft it was very interesting listening to the chatter on the radio as the fight progressed.



Of course any trip out to the ranges and you need to take a look at Rachel, NV at least once. This out of the way town is home to the famous Little A'Le'Inn, and also home to some people with some very strange ideas about the world. A poor Canadian couple got into conversation with the owner regarding the running of Barack Obama and some of the pure misinformation coming out of the resident's mouths was jaw dropping. We decided to leave before we bit our tongues off trying to stay quiet.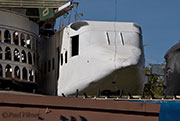 Also while in Las Vegas I searched out a little known utility aircraft that was thought to have perished on the dump at Sky Harbour Airport. The Ahrens AR-404 (what?) can still be seen in a most unusual place..



One set of multiple backlogged photos is from Coventry Airport and the home of Atlantique Classic Flight from my visit back in July on an overcast and cold day - well it is the summer after all!.



Last for this update is a shoot I did only days ago over Chatfield State Park and the reservoir of a local Cessna 172 from another 172. We did three north to south passes to catch the early morning light and to try to get some decent backgrounds..


More, as ever later. Paul.