home
1st August 2010 - Colorado and the Russian Federation



It's a bumper update for this edition, with three from my local airfields and the rest from the Russian Federation.


Starting with my local airfields, at Rocky Mountain Metro (formally Jeffco) we unfortunately had a P-2 Neptune run off the airfield. No major injuries and fingers crossed that aircraft will be repaired.



While at RMM it would be rude to not shoot any other interesting aircraft, so here are the other air-tankers plus the NOAA P-3 "Miss Piggy".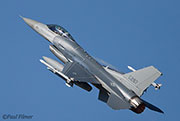 To conclude the local flavour three days of National Guard flying with the local F-16s trying to capture some nice angles, which I finally did on 11 July.



Next stop Russia! Another year, another trip to far off places. This would start in St. Petersburg before heading north to the Arctic Circle. My first three stops were general aviation airfields starting with a visit to Kasimovo with the usual assortment of aircraft including a rare Technoavia SP-91 Slava.



The second day was a relaxed affair visiting four airfields, the first one, Rzhevka, actually being an ex-airfield with an airworthy Il-14. The owner even ran the engines just for us!



Next stop was Gostilitsy where we would pick up our An-2 to transport us to another two airfields.



With the luxury of having an An-2 at our disposal we then flew to Kummolovo. This is the only way to travel, even if it was me doing the flying :) There was ever a Russian Air Force Mi-8 dropping paratroopers.



Last stop before returning to Gostilitsy was Seltso where our tour guide showed us the NDB he had built himself, and then a Microwave Landing System he was working on!